Great day of fun, although the competitions for the day was marred with occassional heavy rain that came and go, which the organiser have to suspend the competition for some delay.
however , that didn't dampen the ompetitive spirit there. Every team was out on the courts the minute the cloud passed and the rain gets lighter.
Some statistics:
54 teams participated in the 4-on-4 mixed open category held this morning, while the rest of the categories will be played on Sunday.
Each team gets to play with 6 different teams for one set each for the preliminary/qualifying.
$70 registration for each team of 4, that comes with the following goodies together some snacks (hotdog bun, ice-cream) and drinks (red-bull, coke)
The imfamous Annual Quiksilver beach volleyball Championship Singlet that all beach volleyball players an some non-players would want to lay their hands on...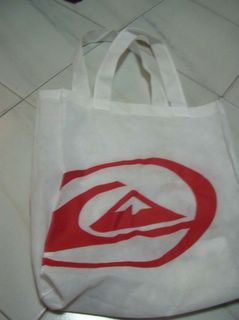 A rather useful "sling/carrying bag" with rather fine quality, that beats the normal Quiksilver plastic bag. This bag is reusable wor!
They make a good "Chap Pa Lang" bag to carry all ur stuffs to the beach.
However, these bags are more commonly seem sling across the ladies shoulder on a beach out session though. not so much for a guy... too bad...
A nice looking mug with the event proper printed.
Well, This "precious" volleyball is NOT part of the goodies though. (Got it after running thru 3 places before i get my hand on it last week...)
Just that a "Mark" can be "imprinted" on it to signify the participation of the event.
Hopefully, slowy over the years, the other band on the volleyball can have more "participation" being "imprinted"
For now, Its just "QuikSilver Open Beach Volleyball Championship 2005"
"Team V-Spirit"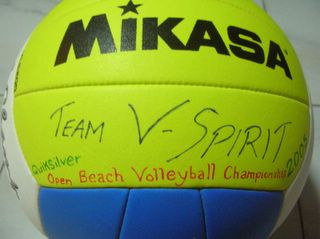 Will be putting up our team pics and our "sister" team pics up once i got it... Stay tune for beach hunks and beach babes from our 2 teams! lol....