Too Old for Neo-Prints??
Hhaa.. Think again. It's kinda fun to "re-visit" the good old memories of taking NEO Prints...
hmm.. my last grp neo prints were taken like some
8 yrs ago
when i was in JC!!!!
The technology is really advanced, the neo prints machine now is so sophisticated and full of customization! Not to mention larger camera angles coverage too!
From Top Left(clockwise): Theresa, Tresa, Fiona, Eric, Huiyan, Adeline & Me!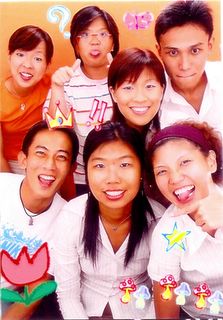 You are never too old for Neo-prints!!!
We were like sua-ku at the shop. making tonnes of noise when the coloured "back-drops" really
DROPPED
down from the machine "ceiling", and getting into pose in time to be captured...
If u haven't got into a neo-print machine for ages like me, u will be surprised at the advancement and marvelled at the technology....