A fantastic weekend.
Especially the Satuday.

The last race was in July during CCG.
This weekend, its the SAVA international.
Really like the 'ID card" they have for each participants. Can keep as momento too. (aiyah, forgot to buy 4-D!)


The Team this time would said to be less well prepared, with many rowers taking absence from the weekly training.
Coupled with the low participating rate from many senior rowers.


Frankly, most of us were not really hopeful of a spectacular performance in SAVA.

Not to mention SAVA is one of the international race with some of the big names taking part in, and we have enuff only to make up 1 men's and 1 women's boat, and a mixed boat utilising the same people in the latter 2 events....

It was really a tough race, as most of us had to go down for 2 events one after another. Moreover, we are all out for all events, pinning more hopes on the Corporate Event.

I'm proud of fellow team-mates that didnt disappoint in the boat. Though we had a couple of new rowers, and rowers who had taken a long break from training, we managed a great showdown with our no.1 one corporate enemy, and yet frens off-the-water, Hewlett Packard (HP) , time and time again.
Still within splits seconds from them, our utmost aim is to beat them in the next DB competition (read: regatta)

this race affirms where we stand, and only 2 other corporate teams are ahead of us . FHI, HP.
we aren't far, cos we are all split seconds apart in the weekend 500M/200M.
RBS medals haul from SAVA International IV 2008:
Gold - FHI
Silver - Hwelett Packard (HP)


Bronze - Royal Bank of Scotland
Gold - Hwelett Packard (HP)
Silver - FHI


Bronze - Royal Bank of Scotland
500m Corporate Bronze / 200M Corporate Bronze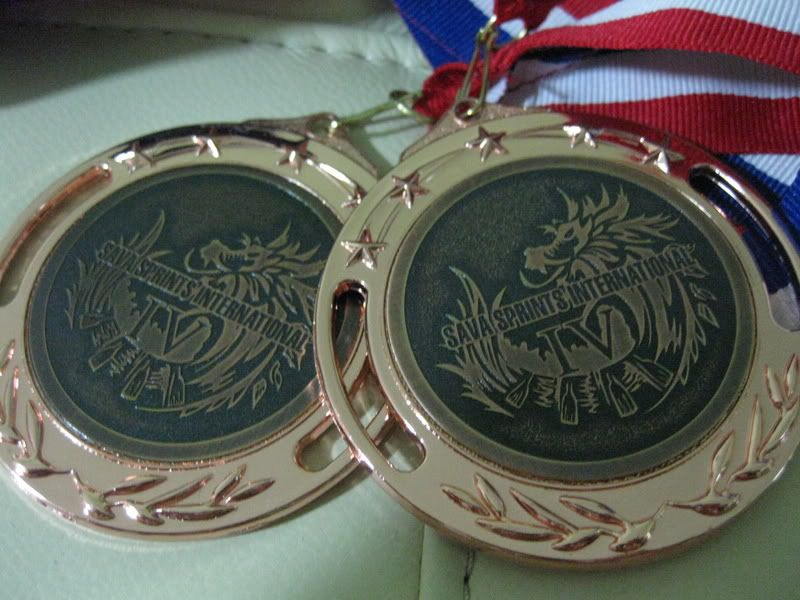 On the way back home,it looks like the sky depicts the after-race mood.
you wont want to know how was this pic taken...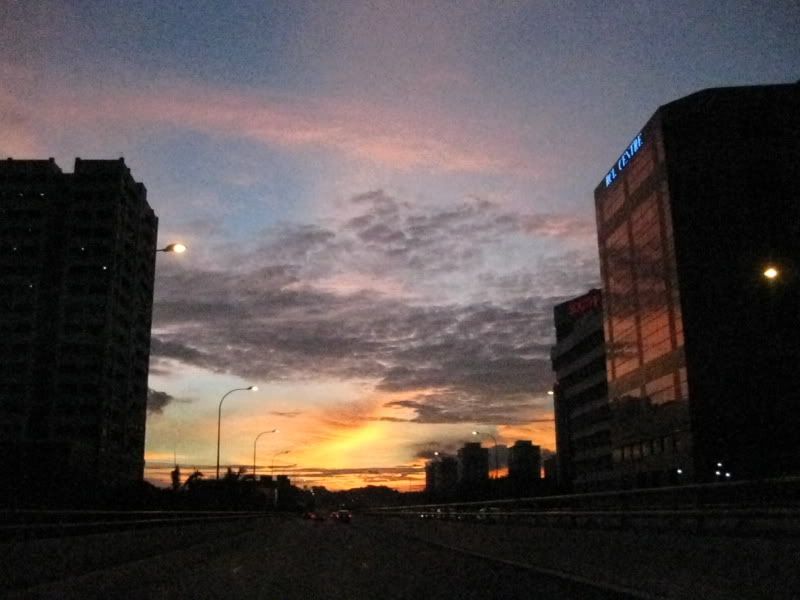 It's really no easy feat for a "new formed" team to be able to achieve so much in all races thus far. As the coach puts it, its really heartening to see the team bring home medals in every race for the year thus far.

However, ended the 2 days with mixed feelings.
No doubt I'm really happy with garnering Bronze in this 2 event, given the fact this team came together as one only at the begining of this year.
In fact, after getting the bronze on Sat 500m event, I was really very highly anticipating if the Team could go on for a better result in the 200M on sunday.
After all, short D is supposed to be our stronger event.
But we have to settle for a split seconds Bronze.
Maybe I'm too hunger for medals?
But still, am realy greatful to the whole team for the medals.

We did it, we will do it again (better) in Regatta!
Watched for the Bankers in Blue and white, we don't just sit and type...!