Friday 11th March 2005
The last day of a week and I left the workplace with a pile of work that will be "greeting" me on
Monday morning...
Couldn't finished those jobs on time becos I was

seriously

held-up by other "non-important" task like "runnig errands" for the
Great Auditors
.... I began to dislke them, although they may look sweet at times..
To put it in a nice way, they claim that they are doing "testing" and "Sample Collections" on our work processes. Well, that
ACTUALLY
means: "We are
scrutinizing
your job process and trying to
report mistakes
you all make!" becos of that, i have to run up and down to retrieve hard-copies documents for them due to the fact that they themselves FORGOT to do a Thorough check when we gave them all the documents right on the
First DAY
! Half my afternoon was practically gone doing such nonsensical task for them and ended up i HAVE to stayed back late trying to complete my OWN task, not to mention i can ONLY claim a nominal fixed amount of OT pay that's enuff for 2 macdonald meal, no more than that....
Despite staying back late, i could hardly finish my work as they were piled up
since afternoon.
But fortunately, a very very kind colleague of mine stayed back to help me! I was very very touched by her actions. When almost everyone has left the office save for my boss, herself and yours truly, she came over to help me, after completing her work and knowing that i am still unfamilar with the documents. I am truly blessed to have such a colleague and becos i don't wish to add on to my guilty conscience, i tried to wrap up the works as soon as possible so that she can leave too.
Afterall, she has a family at home waiting for her too.

Left the office with a
sense of guilt
, having to make someone stayed back due to my "incompetency" and also the fact that i 'may' leave them for a "better" job anytime...
Cos this colleague of mine once told me before that my addition to the department, despite being a green-horn, has lightened some of their workloads. That makes me wonder if i will make the right choice if i were to leave for another job....
I guess not much people will have such wonderful colleagues in the working world. Maybe i should add that you can't find any traces of the so called "office politics" in my department.
Probably being the youngest in the department, i am treated much better? :)
Saturday 12th March 2005
woke up with a flu. actually i "felt" the flu coming on friday night. It must be due o th

Ice Teh Limau

i had for lunch at

Mr. Teh Tarik

on friday. Why am i so sure? cos my fren had a diarrahoe after drinking the

Ice Milo Dinosaur

from the same outlet. That means i will avoid that place for drinks for the next couple of months until i mustered my courage to try any o fthe drinks again...
unshaken by the flu, i still make a trip down to ECP for my "weekly dose" of blading. haha.. i ca't let a light flu take away my only chance to be in the sun with winds blowing against my face doing the thing(s) i like. And the weather was great ! Fiona msg me to go Wala-wala in the night, and i was more the obliging as frankly, i do not have anty plans for the night. What's more, the band that's gonna be in today i s "The Unx-pec-ted" haha... that's how the lead singer spelled her band's name! (oopss.. i didnt managed to catch her own name after the whole night there.. lol). Thanks to Fiona, CY and Bernard for the B'day Dedication Too!
although yesterday was a small crowd, but it was a good night, with endless flow of Hoegarrden, snacks and wonderful live music. Have to leave early as i was overwhelmed by my tireness. Must be due to the flu. And i actually doze off for some moments in the cab....
Sunday 13th March
My flu reached its "final stage" this day. Woke up only at noon, my flu was getting worst. Still , i make my way to Suntec City Tropics atrium for the annual National Cheerleading Competition (a.k.a.

Cheerobics 2005

).
Stunning and great performance by the

Magnum Force

, Aces and most of all, the

Bangkok University Cheerleading team

who graced the ocassion as special guest performance. Their moves were really nowhere compared to any that u find in the IH Cheerleading competiton! And I am proud to announce that i Managed to capture the full performance of

BU

and

Magnum Force

in my digi cam as videos and the quality was quite good although it can't be compared to a DV camcorder.
check out some of the pics that i ripped from the video!
Get the videos from me if u didn't cattch the action. Its really a
"FABULOUS and Awe-so-Stunning!!!!" performance!
BANGKOK UNIVERSITY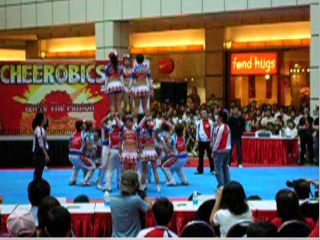 2 gals preparing to 'emerge' from side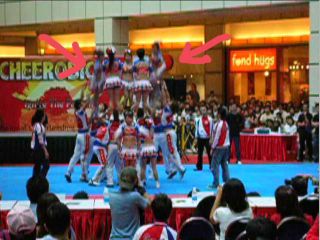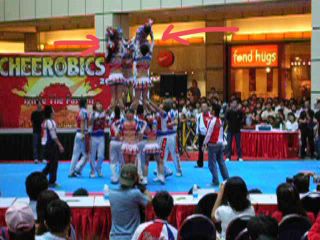 up! and landed right at the precise spot!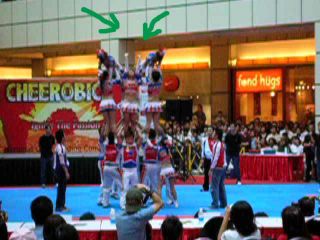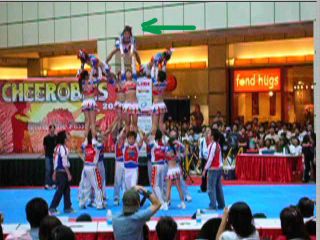 Watch for someone from the back...and she was tossed up in one swift motion!
MAGNUM FORCE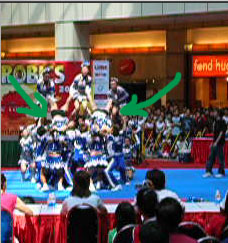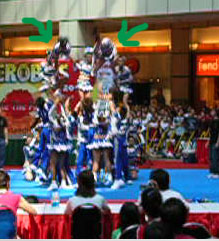 From a face-down position, they were tossed up!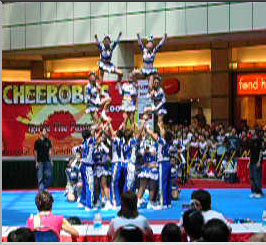 And swiftly firmly stand up!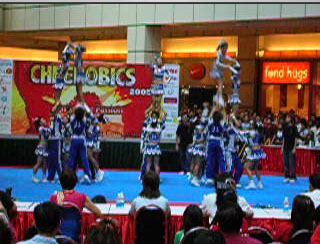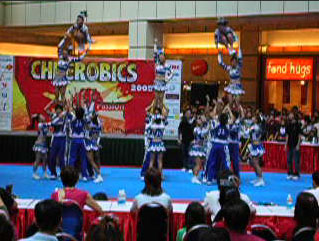 A "Fork-lift" where the 2 gals jumped over the otherwhile in the air...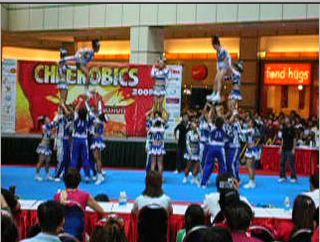 not before they make a 360 degree turn to complete the jump!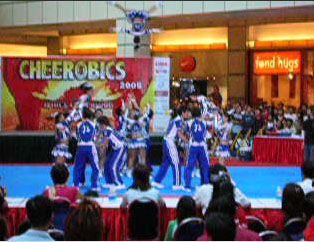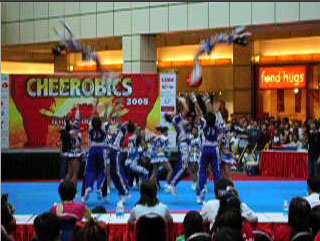 Magnificent toss and somersault
!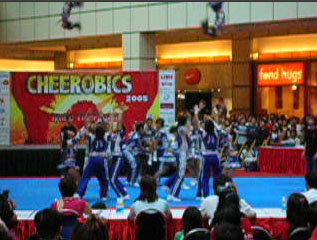 Synchronized somersault in the air and landed Flawlessly!!
Check Out
http://yongzhi.fotopic.net
for other competition team's pics!